meet
The Humble Co.
The Humble Co.
Revolutionizing the personal care category since 2013.
we are
The Humble Co., a Swedish sustainability-focused company offering eco-friendly and innovative products that are good for you and kind to the planet.

We believe that choosing sustainable personal care products should be easy, and are here for conscious and curious people who want to make their everyday lifestyle more environmentally friendly.

Each Humble purchase funds oral health projects benefiting children in need. In collaboration with the Humble Smile Foundation, as of today, we have carried out projects in 106 local communities in 50 countries worldwide. 
learn more
our humble vision
At The Humble Co., we envision a world where sustainability is the norm. A world where no one has to choose between sustainability and quality, and where caring for the environment doesn't mean compromising on performance. 

To get there, The Humble Co. is on a mission to make sustainability more accessible by creating eco-friendly and innovative personal care products that don't compromise on functionality or quality.
our story
Following a period of volunteer work in Jamaica in 2013, dentist Noel Abdayem recognized two issues: the alarming need for oral health care in the world and the large amounts of plastic that toothbrushes leave behind.

The solution? A toothbrush made of eco-friendly materials, performing just as well as the conventional alternative and giving back to those in need through a long-lasting partnership with the non-profit organization Humble Smile Foundation. 

Since then, The Humble Co. has sold over 60 million products, enabling us to support oral health projects in vulnerable communities in 50 countries around the world.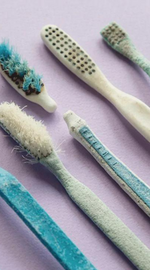 battling the
plastic problem
plastic problem
We are a bulldog in the fight against plastic oral care products. We choose to call it a fight since the world consumes more than 10 billion plastic oral care products every year, most of which end up in landfills and oceans.

With a beautiful and simple design, The Humble Co. offers a serious alternative to regular plastic products. No disadvantages!
Scandinavian design
from Sweden
with love
In Sweden, we have learned to love our planet.

We embrace nature, look for sustainable energy,
work to minimize waste and take every opportunity
to create new ways to protect our beautiful world.

newsletter
Interested in news and discount codes?
Sign up and take part of what we have to offer!